Enjoy the beauty and culture of Maldives cheap holiday package for four days from India, and capture the most memorable moments of your life. The Maldives is a popular destination for adventure and water sports. Moreover, Maldives is home to many attractions, such as Maafushi Island and Male City, Grand Friday Mosque, and many more. You can choose one of our Maldives budget trip from India to make your holiday unforgettable. Each of these fantastic packages is curated and tailored for you. We guarantee you won't be disappointed when you book your Maldives holiday with us.
This Maldives cheap holiday package includes 3-star accommodation in Arena Beach Hotel and speedboat pickup/drop meals. So you can choose from three types of accommodation: sea view, beachfront, deluxe or super deluxe. Further you can customise your Maldives budget travel as you wish. Take a look at this Maldives itinerary for a budget trip!
The Arena Beach Hotel is situated along Maafushi's coastline. The hotel has its beach, which allows easy access to local shops, restaurants, and watersport operators. Arena Beach Hotel has the best local knowledge and offers night fishing thrills. All rooms in the hotel are beautifully furnished and fully air-conditioned. The air-conditioned rooms are elegantly furnished and include a personal safe, an electric kettle, a closet, and a flat-screen television with satellite/cable channels. The in-house restaurant is located on the beach and serves delicious local and Western cuisine. It also offers views of the blue lagoon.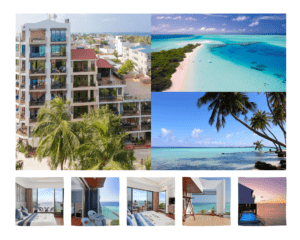 Best Places To Visit In the Maldives:
Are you planning to visit the Maldives but aren't sure where to go? Fret not! We can help you find the best! If you find choosing from the many attractions challenging, we have compiled a list of  best places to visit in Maldives. Although not comprehensive, this list of the top places in Maldives will help you to tick off all the major tourist attractions in the country.
Male City – The Capital Of Maldives
Banana Reef – world's most popular dive sites
Artificial beach – breathtaking human-made seashores
HP Reef – For Corals And Caves
Maafushi Island – Best budget island
Submarine for Whales – For An Exciting Underwater Tour
National Museum – For Bizarre Historic Artifacts
Hulhumale – Artificial island in Maldives
Maldive Victory –Most remarkable Diving Spot
Grand Friday Mosque-Biggest Mosque in Maldives
Presidential Palace-Royal Infrastructure
Male Friday Mosque – Intricate Carvings & Unique Architecture
Tsunami Memorial – most historical monuments
National Art Gallery– An Artistic site
Best things to do in Maldives:
There are many activities you can enjoy in the Maldives. You can choose from many options, whether you want to relax or engage in exciting water sports. Find the top things to do in the Maldives with your family and friends.
Take a sunset cruise to spot dolphins.
Enjoy a romantic stroll in Sultan Park.
Take a shopping trip to Majeedhee Magu.
Enjoy snorkeling on Mahibadhoo Island.
Take a Whale Submarine tour to see underwater creatures.
Enjoy kayaking at Hanimaadhoo Island.
Enjoy scuba diving at Banana Reef.
Indulge in massages and spa treatments.
Immerse yourself in island hopping tour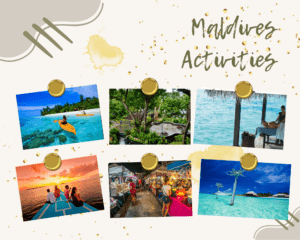 So strike off Maldives from your bucket list today, and visit this hypnotic place. So why the wait? Start exploring our Maldives cheap holiday packages now and discover what compels tourists to visit this from all across the country.
Browse through a wide range of cheap tour packages to Maldives from different Indian Cities like: Maldives Package from Delhi,Maldives Package from Chennai, Maldives Package from Mumbai, Maldives tour package from India Maldives Package from Bangalore, Maldives Package from Pune,  Maldives tour Package from Kolkata, Maldives Package from Ahmedabad. So, pickup your phone and give us a call for any kind of package booking or assistance at ☎ +91-7478325580 or ☎ +91-7699685748.
Itinerary
Maldives: Arrival and day at leisure
On your arrival in Maldives, you will be met by our representative and escorted to the resort. Complete your check in formalities, and enjoy a relaxing day at leisure as per the itinerary of your Maldives family package.
Maldives: Day at leisure with optional excursions
Post breakfast, instead of a laid back day at the hotel in Maldives, we recommend you to go for optional excursions which can be arranged on request. It includes fishing tours, sand bank picnic, snorkeling, resort cruises, island excursions, and dolphin cruise.
Maldives: Day at leisure with optional spa
Your budget holiday package in Maldives come with an affordable slice of luxury as you step into the hotel's spa. Make use of your day at leisure to pamper yourself for a few hours, and rejuvenate yourself.
In the evening explore the rest of the Island and get a look at the lifestyle of the Maldivian locals. Relish a Maldivian dinner before calling it a day.
After an amazing breakfast, it is time to check out of the resort, drawing your Maldives family package to a close. You will be taken to the airport via speed boat, so get set to enjoy the thrilling ride. Catch your flight back home, with memories of a great family vacation to warm your hearts forever.