If you're contemplating a Thailand holiday, Tripoventure is the right Place to go. No matter your travel preferences, there is a suitable Thailand Tour package from India here. Whether you're searching for Thailand packages for your family or couples, require guided Thailand tours for your parents, or an unusual Thailand trip to yourself, Tripoventure will help make sense of your Thailand travel plans. Explore our luxury Thailand Tour package from India, which include the top accommodations and amenities that will pamper you during your Thailand holiday.
To help you plan your Thailand trip, we've created a list of guidelines, including the best time to travel to Thailand, activities to enjoy in Thailand, and so on.
Thailand Visa for Indians:
Indian citizens who travel to Thailand are eligible for the Thailand Visa on Arrival, that's in effect for 15 consecutive days starting from your date of arrival. If you'd prefer to receive your Thailand visa prior to traveling you may apply for a 15-day One-Entry Tourist Visa with Tripoventure. In all instances the passport you apply for must be valid for six months from the date of entry into Thailand.
Best dishes to eat in Thailand:
Thailand is world-famous for its mouthwatering cuisine and for good reason
Guay Teow (Noodle Soup
Tom Yum Goong (Spicy Shrimp Soup)
Tom Kha Gai (Chicken in Coconut Soup)
Pad Thai (Thai Style Fried Noodles)
Panang (Thai Curry)
Gaeng Keow Wan (Green Curry)
Kao Niew Ma Muang (Mango and Sticky Rice)
Best things to do in Thailand:
In addition to the standard Thailand tourist attractions, there are many intriguing activities that you could incorporate into your Thailand vacation to make it more enjoyable. Here are some suggestions on interesting activities to take part in while in Thailand:
Visit the Grand Palace
Have a Thai Massage
Visit The Damnoen Saduak Floating Market
Spend an Evening in Nana Plaza (Soi 4)
Climb the Sathorn Unique Tower
Take an Island Tour
Visit a Ping Pong Show
Eat Street Food
Have a Water Fight During Songkran
Visit Khao Yai National Park
Go to a Full Moon Party
Take Part in The Loi Krathong Festival
International
Get great deals on Bangkok Pattaya tour package. Make your reservation for your vacation in Bangkok and Pattaya with Tripoventure. Tourists who want to save money on...
Available through out the year:
Jan
Feb
Mar
Apr
May
Jun
Jul
Aug
Sep
Oct
Nov
Dec
Thailand is a paradise with various beautiful destinations; Phuket and Krabi are two of the best. Phuket is the center of the Andaman sea and...
Available through out the year:
Jan
Feb
Mar
Apr
May
Jun
Jul
Aug
Sep
Oct
Nov
Dec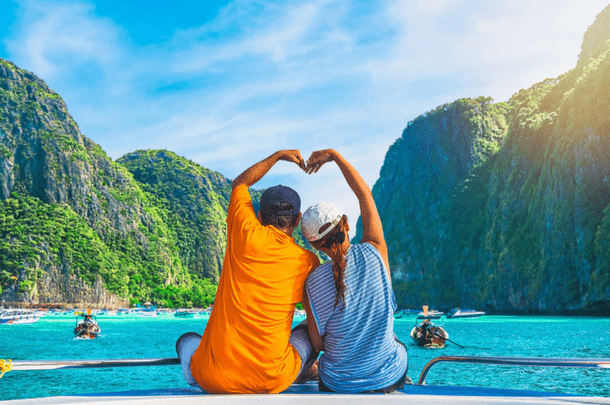 Are you thinking of a Thailand trip for your honeymoon? Not to worry! Take your luggage with you to discover the stunning cities in Thailand,...
Available through out the year:
Jan
Feb
Mar
Apr
May
Jun
Jul
Aug
Sep
Oct
Nov
Dec