The Dooars or Duars are the alluvial floodplains in northeastern India that lie south of the outer foothills of the Himalayas and north of the Brahmaputra River basin. This region is about 30 km wide and stretches 350 km from the Teesta River in West Bengal to the Dhansiri River in Assam. So, come and grab our Dooars Package Tour from Kolkata that will give you an opportunity to explore the beauty of this place. To know more about Dooars Tourism, reach us now, and we assure you to provide the best solution matching your preference for an incredible and everlasting experience in Dooars.
Things to do in Dooars:
Located at the foothills of the Himalayas, Dooars is an incredible, wonderful treasure trove of natural beauty. The sprawling tea estates with luscious tea, vast forests of dense vegetation with a swathe of brooks, slithering springs, Mountain Rivers, and wildlife such as elephants, tigers, and Indian Bison make Dooars a very attractive tourist destination. There are numerous activities that tourists can enjoy while staying in Dooars.
Elephant Safari in Dooars:
An elephant safari in Jaldapara Wildlife Sanctuary is extremely popular. Those who love the jungles and wildlife must go on one during their time there. The scope of spotting wild animals during elephant safari compared to jeep safari is better.
Jeep Safari in Dooars:
Jeep safaris are the popular modes of transportation inside dense forests. There are two safaris every day that tourists can take to explore the stunning forests in Gorumara and Jaldapara. They are open "Gypsy" vehicles run by forest departments. They allow tourists to see many reptiles, wild animals, and birds.
White Water Rafting in Dooars:
Rafting on River Teesta is very popular. Melli is among the most well-known rafting spots in the Teesta, easily accessible via Dooars. There are various levels to choose from, as well as different lengths of courses for experienced and novice river rafters, respectively.
Bird Watching in Dooars:
Dooars boasts a variety of wildlife and flora, making it an ideal habitat for many species of birds, including Himalayan and Lowland birds. It's a birder's heaven and a sought-after spot for photographers of birds. Many tourists visit the area to go bird watching or observe the actions of birds.
Trekking in Dooars:
Dooars has a stunning natural landscape that provides stunning trekking routes. Bhutanghat is about 45km from Alipurduar, close to the Bhutan frontier. Many trekkers visit Bhutanghat daily and return to their home base at Alipurduar, Rajabhatkhawa, or Jayanti. It is famous for its Buxa Fort within the Buxa Tiger Reserve lies at 867 meters in elevation. It's approximately an hour's walk up to the top of the fort.
Famous food of Dooars:
The Dooars tourist lodge restaurants here serve both South and North Indian food. It is recommended to try the local dishes as they are flavorful and more authentic. Steaming hot momos, dry fish pickles, Chinese food, and the popular "dak Bunglow" chicken are the few local dishes you should taste in Dooars. You will come across many roadside eateries where you can taste the mouth-watering local dishes. And don't forget the world-famous tea you will get here as the tea lover's paradise is Dooars.
Best time to visit Dooars:
The climate of the Dooars plains is similar to that of the remaining districts of North Bengal. However, it experiences an extended winter and higher rainfall due to its proximity to hills. Famous for its pleasant temperatures throughout the year, Dooars is best when visited in winter, i.e., between September and May.
Some travelers visit the town throughout the festive days in the winter season to witness the city's colors, enthusiasm, pleasure, and unity celebrated in their unique ways. Tourists do not always favour the rain, but it makes a paradise for offbeat travelers, nature lovers, or adventurers. Summers are also pleasant except for the peak hours. Therefore, they may not be the right time for tourists from moderate or hot temperatures. There is a lot to observe and explore in Dooars, situated at the foothills of the Himalayas. The tea estates have plenty to offer throughout the year, and each season brings an exciting and unique adventure.
How to reach Dooars:
Dooars via flight:
Bagdogra is the closest airport to Dooars. It's a small domestic airport with flights between the country's main cities. It is located just 12 km from the city, and taxis and buses can be found from Bagdogra to Madarihat or Dooars.
Dooars via road:
The most convenient way to reach Dooars is by road. Dooars has great road conditions and a good network. While driving through Dooars, you can also expect stunning views. Numerous cab services are available from nearby cities such as Darjeeling or Siliguri. There are a few state buses that connect Dooars with major cities.
Dooars via train:
The New Jalpaiguri Railway station is just a few kilometers away from the town. It is one of the biggest railway stations in the city and is well-connected to nearby cities and key cities of the country. Another station, Madarihat, is just 7km away from the Dooars.
Holiday Packages
Available through out the year:
Jan
Feb
Mar
Apr
May
Jun
Jul
Aug
Sep
Oct
Nov
Dec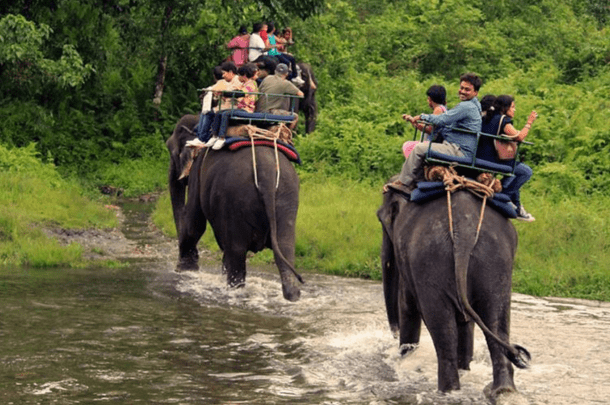 Available through out the year:
Jan
Feb
Mar
Apr
May
Jun
Jul
Aug
Sep
Oct
Nov
Dec
Available through out the year:
Jan
Feb
Mar
Apr
May
Jun
Jul
Aug
Sep
Oct
Nov
Dec