Tripoventure is the right place to come if you're contemplating your Maldives excursion. You can find appropriate Maldives holiday packages in your travel preference. Whether searching for Maldives Tour package from India for families or couples, whether you require an escorted Maldives tour for your parents or an unusual Maldives trip to yourself, Tripoventure will help determine your travel plans. Explore our best Maldives tour package from India with unbeatable deals and discounts.
If you are looking for a short trip, an extended holiday, or an active vacation. In that case, regardless of your style of travel, Tripoventure has suitable Maldives vacation packages to select from. Do you want a luxurious vacation? Explore our luxurious Maldives packages that offer the finest of accommodations and amenities that will pamper you during your Maldives holiday.
To assist you in planning your Maldives journey, we've created a list of tips, including the ideal moment to go to the Maldives and things you should do when in Maldives. So
Best time to visit Maldives:
The dry season is the ideal time to plan a Maldives vacation to enjoy the island due to the absence of rain and the gentle breezes. The season runs from November through April. The peak time from December to March draws travelers from all over the world, especially from India to the Maldives.
Maldives Visa for Indians:
If you are planning a trip for a trip to Maldives, Indians do not need a visa before their arrival. They will be issued tourist visas at no cost upon arrival from India at Male Airport. Therefore, you can travel on your Maldives excursion without concerns about the visa.
Top dishes to try out in Maldives:
Since Maldives is a major tourist destination having resorts spread throughout the island, there is a wide range of food options for tourists, even vegetarians.
Fried Yams
Masroshi
Fish curry
Gulha
Mas Huni
Maldivian Live Lobster
Saagu Bondibai
Reef Fish Cutlets
Bis Keemiya
Kulhi Boakibaa
Aluvi Boakibaa
International
Paradise Island Resort & Spa is the perfect place for you and your partner to have a romantic getaway or an adventure-filled vacation. A 20-minute...
Available through out the year:
Jan
Feb
Mar
Apr
May
Jun
Jul
Aug
Sep
Oct
Nov
Dec
Sun Island Resort & Spa is the perfect place to find adrenaline-fueled adventures and serenity. It's located in South Ari Atoll, close to the South...
Available through out the year:
Jan
Feb
Mar
Apr
May
Jun
Jul
Aug
Sep
Oct
Nov
Dec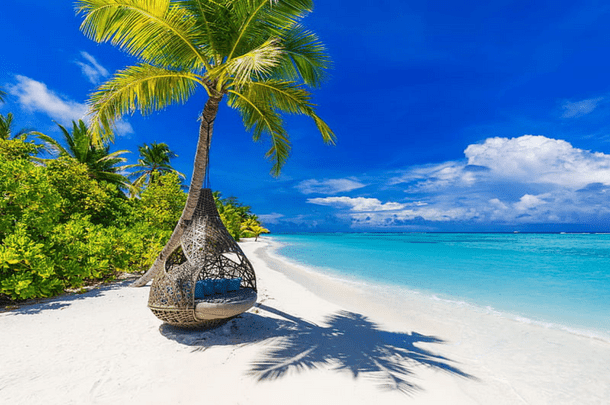 Enjoy the beauty and culture of Maldives cheap holiday package for four days from India, and capture the most memorable moments of your life. The Maldives...
Available through out the year:
Jan
Feb
Mar
Apr
May
Jun
Jul
Aug
Sep
Oct
Nov
Dec